A list of well known people who support Fulham.
Margot Robbie (Actress)
Ray Brooks (Actor - Eastenders, Robbie Box in Big Deal & Narrator of Mr Benn)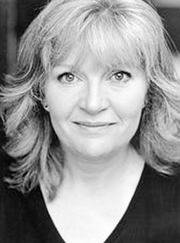 Sharon Duce (Actress - Big Deal)
Dominic Guard (Actor & Sharon Duce's partner)
Christopher Guard (Actor - Dominic's brother & Cathy Shipton's partner)
Cathy Shipton (Actress, Nurse Duffy in Casualty)
Michael Redfern (The OXO Dad)
Hugh Grant (Actor)
Iain Fletcher or "That bloke off The Bill" (Actor - DC Rod Skase in The Bill)
Neil Dudgeon (Actor - Ginger haired detective from BBC's Messiah - pretty sure he used to sit near me in block H3)
Daniel Radcliffe (Actor -Harry Potter, though now seems he's not really interested in football but lives in Fulham)
Keith Allen (Actor, Comedian)
Willie Rushton (Actor & Satirist)
Nigel Havers (Actor)
Liz Frazer (Actress, Carry-On Films)
Sam Kydd (Actor)
Bella Emberg (Actress, Russ Abbott's sidekick)
Pierce Brosnan (Actor, Ex-James Bond)
Kerok Malikyan (Actor - Greek bloke off Mind Your Language)
Fulton MacKay (Actor - Mr MacKay in Porridge)
Tony Booth (Actor & Father of Cherie Blair)
Tony Curtis (Actor)
Ben Chaplin (Actor, Game-On and a film with a long title)
Patrick Mower (Actor, Emmerdale & Hazel)
John Woodvine (Actor)
Honor Blackman (Actress, Pussy Galore in James Bond)
George Tipper (Actor & Comedian)
Television Celebrities
Edit

Richard Osman ('Pointless' presenter)
"Nasty" Nick Bateman (Big Brother)
Georgie Thompson (Sky Sports News presenter)
Isobel Lang (BBC Weather)
Scorpio (from Gladiators)
Tim Ewart (ITN Sports Editor)
Des Lynham (Brighton supporter but regular attender at FFC for 2005/06)
Kirsty Gallacher (Presenter - Really a Liverpool fan but has attended in the past possibly due to her Dad)
Keith Chegwin (Presenter, Chegger's Plays Pop)
Richard Parks (Fame Academy)
"Handy" Andy Kane (TV Handyman)
Other Arts & Entertainment
Edit
John O'Farrell (Author & Broadcaster)
*
"Diddy" David Hamilton
(DJ, TV presenter and match day announcer)
Dennis Potter (Playwright)
Robin Bextor (Writer/Director)
Tommy Trinder (Comedian and ex-Chairman)
Johnny Speight (Writer of "Til Death Us Do Part")
John Sullivan (Writer of "Only Fools & Horses" and "Citizen Smith")
Fictional
Edit
Wolfie Smith ("Citizen Smith" played by Robert Lindsey)
Terry McCann ("Minder" played by Dennis Waterman)
Ronald "Budgie" Bird ("Budgie" played by Adam Faith)
George ("Men Behaving Badly" played by Ian Lindsay)
DC "Dangerous" Davies ("The Last Detective" played by Peter Davison)
Mod ("The Last Detective" played by Sean Hughes)
Politicians
Edit
Steve Norris MP (was Everton but now a FFC regular)
Steve Pound MP Martin Linton MP
Tony Blair (ex-PM, well he did admit that Steed was his favourite player)
Jimmy Hill (ex-Player, ex-Chairman, TV Presenter & part time linesman)
Bernard Gallacher (Golfer)
Tim Henman (Tennis Player - dubious!)
* Andy Woodman (Journeyman Goalkeeper - suggested he may be a Palace fan)
Dario Gradi (Football Manager)
Alan Pardew (Football Manager)
Alan Smith (Football Manager)
Rasmus Falk (Football Player)
Max Clifford (Publicist)
The Bloke Karate Kicked by Eric Cantona (Assumed he was a Palace fan but apparently he was a regular at Fulham)
Pope John Paul II (Pope)
OK, Truce!!
Community content is available under
CC-BY-SA
unless otherwise noted.